AMP3 News
Latest Updates
Cowon D3 – Finally!
The long rumoured successor to the ever popular D2 & D2+ players has finally been announced by Cowon!
While some of Cowon's past players have used Linux (such as the O2) and Windows CE (Q5 and V5), the D3 represents the first player from Cowon to adopt the Google Android operation system that has revolutionised the mobile phone and tablet market.
Initially shipping with Android 2.1, the Cowon D3 will also feature built in Wifi and Bluetooth support and it will sport a 3.7" AMOLED high resolution 800x480 pixerl display with a capacitive touch screen which makes a great improvement from the low-res 2.5" LCD display and resistive touch screen in its predecessor.
With the sound quality you would expect from a Cowon player the D3 will also play most video media you care to throw at it. The players are expected to be available in 8, 16 and 32GB memory sizes with a microSD card slot to expand the memory further.
Keep an eye out on our website for more information as soon as we receive it and for preordering.
Dune HD iPhone / iPad App
Good news for all DUNE fans and customers: the first official iPhone/iPad application working with all Dune HD players is available now and for free!
The App lets you control any Dune HD player with the iPhone or iPad acting as the remote control via Wifi.
To download the free App just search for 'Dune remote' on the Apple App Store.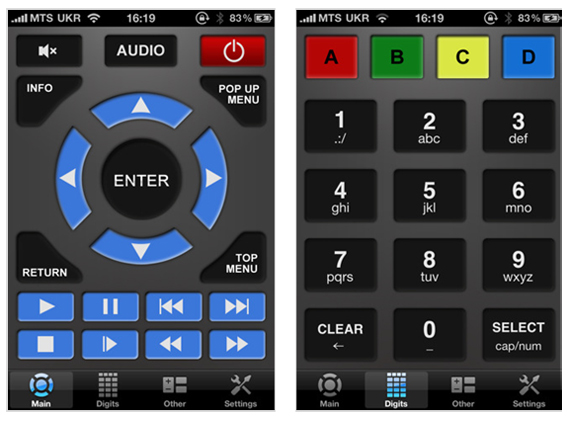 Screenshot of the iPhone Dune App in action.

Disgo Tablet 6000 system update
Disgo have released a system update for their Android Tablet which gives the following benefits:
New user interface including one extra widget home page
Easy-to-use power icon for Standby and Power off option
Improved Video playback on SkyFire browser
USB drive can be connected via either micro USB slot.
Sound recorder application added
New more robust file system interface (My Device)
Automatic Time/Date settings (requires Wi-Fi)
Now possible to copy files to and from MicroSD card and USB drive.
For the installation procedure please see their website at: http://www.mydisgo.info/archives/1607
Questions and Answers
We get quite a varied range of questions via our Technical Support phone line, and we're more than happy to help where we can. We'll feature some of the more regular questions in this newsletter in case any of the answers are of interest.
Does the Elonex eTouch 10" Android 2.1 Mobile Internet Tablet support Adobe Flash?
Currently the Elonex eTouch does not support Adobe Flash in the built in web browser.