What's New From Sonos? An In-Depth Look at the Sonos Move and the Sonos One SL
We're big fans of Sonos here at Advanced MP3 Players, so there's no doubt that we'd want to share with you their latest smart speaker offerings. Recently, we've said hello to two new arrivals in the range of Sonos speakers, the Move and the One SL, so we thought we'd take a closer look at what you can expect from their latest tech.
Farewell to the Sonos One?
We officially said hello to the Sonos One around two years ago – literally. The innovate smart speaker combines with Amazon Alexa to give the user total hands-free control of their music. Perfect for cooking, cleaning, or even those times where you can't quite reach your phone. The One allows the user to still get the benefits from Alexa, just paired with the brilliant sound Sonos are known for. Not only are you able to control your music hands-free, but you can also manage your smart home devices with your voice too – heating, lights, you name it.
However, earlier this year it was announced that Sonos were discontinuing the One, and were replacing it with a newer model. So what can we expect from the new One SL? And more importantly, how does it differ from its predecessor? Let's take a look.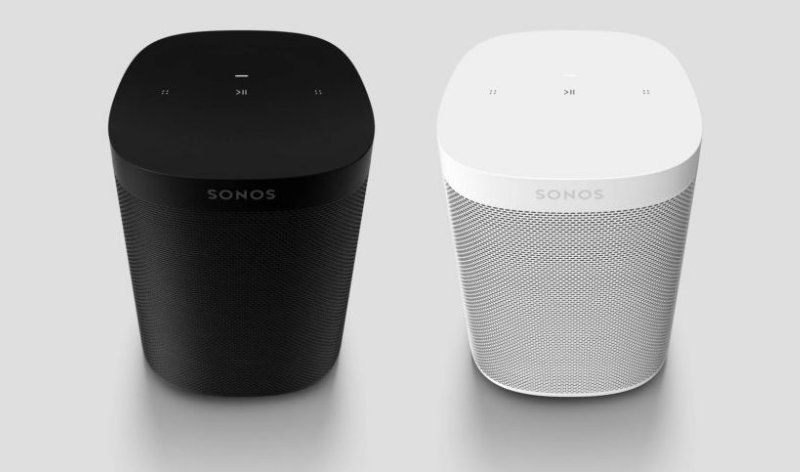 Don't be fooled by the compact design of the new Sonos One SL. Giving you a powerful and superb sound for every room in your home, this speaker definitely packs a punch. You can stream music using your favourite apps and services including Apple Music, Spotify, Amazon Music, Deezer, and loads more, and you can stream directly from your iPad or iPhone.
You can create your very own home cinema system with this smart little speaker too. Whether you pair it with another SL, or the original Sonos One, you can enjoy stereo sound in your room for the ultimate entertainment experience. It's compact design also means it will fit right in just about anywhere in the home – whether it's your kitchen worktop, your desk, or your bookcase. You can even choose between black or white too, so that it fits in perfectly with your decor!
So what about the sound features? Well, the tweeter gives you a high frequency, clear and crisp sound, along with the mid-woofer which will allow you to enjoy the rich bass tones of your favourite music. You can also create your perfect, unique sound by individual room with the adjustable bass and treble controls.
So, what's the main difference between the Sonos One and the One SL? To put it simply, the SL is microphone free. While some may see not being able to use Alexa or Google Assistant as a negative, this is sure to be a positive for others who aren't so keen on voice controlled devices in the home!
If you can't bear the thought of being without a voice controlled smart speaker, then fear not! You can still purchase the original Sonos One here at Advanced MP3 Players for the same price – but be quick! There's limited stock available, so once they're gone, they're gone!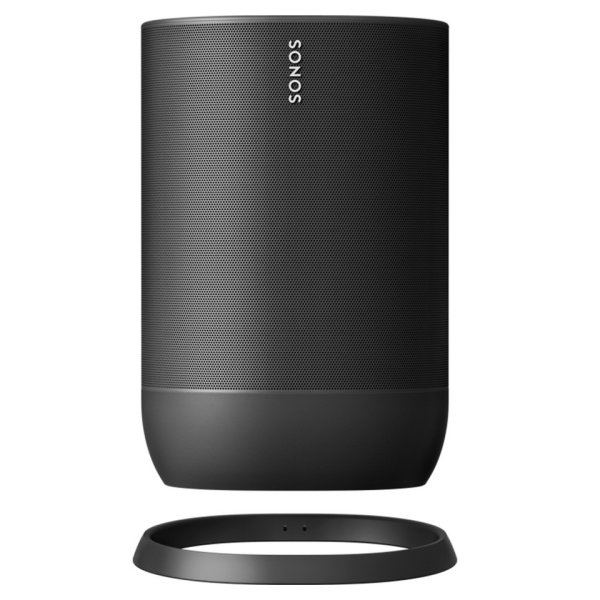 Sonos Move Portable Bluetooth Speaker
If you're constantly on the move, the aptly named Sonos Move could be the perfect match for you. Take top quality sound with you wherever you go thanks to this impressive portable smart speaker. Unlike basic Bluetooth speakers, the Move brings you the full package, right down to its ergonomic design. It comes with that fantastic sound that Sonos speakers are well known for, thanks to the two Class-D amplifiers and integrated mid-woofer, so that you'll be able to enjoy the very best sound every single time. Thanks to it's automatic Trueplay tuning, this clever speaker also brings you perfectly balanced sound whether you're indoors or outdoors. And there's even more good news if you love the great outdoors – the Move is whether resistant! Yes, really. Humidity, rain, snow, extreme temperatures, you name it, it's well equipped to battle the elements.
Just because the Sonos Move is portable, it doesn't mean that you have to scrimp on its tech either. It's equipped with built in voice controls – simply connect to Wi-Fi and you can enjoy all the benefits of Amazon Alexa and Google Assistant as well as streaming music. No Wi-Fi? No problem, just switch to Bluetooth when you're outside the home.
For those who are concerned that a portable speaker is more prone to damage, allow us to reassure you. All of the top tech inside the Move is protected with a shock resistant, hard-wearing case, meaning there's no need to worry about any accidental drops. Even better, the Move is equipped with an ergonomically designed handle, meaning you can carry it around with confidence.
Surely, with all this tech that'll eat into your battery, right? Wrong! You can enjoy up to 10 hours of use still with that brilliant sound quality, and the Move fits effortlessly into the included base for super easy charging.
So there you have it, the latest Sonos speakers to arrive here at Advanced MP3 Players. Regardless of whether you opt for the new Move or the One SL, one thing is guaranteed: you won't be disappointed!